Chair Pad / Loop Hearing System Pad in Florida
Chair Pad Hearing System
Our chair pad Loop Hearing System will allow you to quickly connect to a portable induction loop system. These chair pad loops are quickly installed by our team to give hard of hearing patrons/users quick and convenient access to the Loop Hearing System and the ability to clearly hear their surroundings or the event being attended.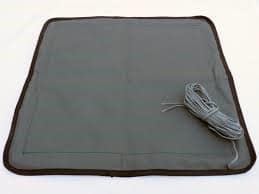 $45 Plus tax (add up to 7% Sales Tax for deliveries within the State of Florida) and shipping.
A chair pad, or Loop pad, replaces the Loop wire and is typically used in instances where it isn't possible or desirable to install actual wire. The chair pad connects to the loop system and has a 20' lead to the pad. The pad can be placed underneath you so that you can sit on it or it can be placed behind the head if a stronger signal is required.
Use of the chair pad makes the residential hearing loop kit portable. Simply take the system, power supply, and chair pad with you. At your destination, connect the amp to the TV, plug in the power supply, connect the chair pad and you are now Looped!
Call Today
for your free on-site Loop System demonstration!
727-260-3488
---
The absolute best way to actually witness the benefits of a Loop System is to have an on-site demonstration. We will temporarily lay out the Loop wire so that a person with hearing instruments or even without (using a special receiver) can hear what the Loop System sounds like.
---