Hearing Loop Systems Specialists in Florida
Residential
Residential Loops are traditionally placed around the perimeter of the room, either at floor level or ceiling level.
For a floor level system, the wire can be placed under, behind or on top of the baseboard or under carpet. At ceiling level, wire can be placed in the attic or along the area the ceiling and wall meet or at/near crown molding. A hearing loop system technician will meet with you to discuss all the options.
Audio is generally sourced from a TV, DVD player, amplifier, or cable box. However, it is common to provide a microphone or microphones in order to better communicate with friends or family. The mics can be in the form of a boundary mic that sits on a table, a hanging mic as you might find in a choir area, or lapel mic that clips to your collar.
Our induction loop installation technician must inspect the location and, in some cases, conduct some tests. From there the appropriate recommendations can be made as to how and where to install the wire.
Commercial
There are many different styles of commercial Hearing Loops just as there are many different types of business. Each business has a unique set of needs and requirements. For example, when a person goes to a bank, there is an expectation of privacy because there is important financial information being discussed. A bank teller may have to repeat him or herself multiple times which allows for the chance that private information may be compromised. How about a physician that has important medical information to discuss or a pharmacist that has crucial prescription facts to explain? An auditorium, activities room, or movie theater in a senior living facility all have different needs than the previous locations.
As with Residential, some situations require a Loop wire around the perimeter with an amplifier and others allow for a wireless system.
1. Wired System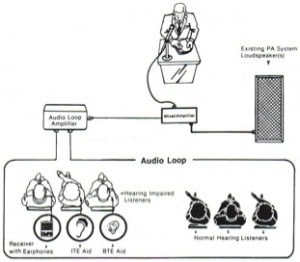 Any large room or area will require a wired system such as an auditorium, cinema, theatre, and places of worship, meeting and lecture rooms/halls. It will require detailed pre-installation testing, engineering, and planning to ensure proper placement of wires and appropriate equipment to obtain adequate signal strength.
2. Wireless System
Uses such as bank teller windows, reception desks, ticket windows, pharmacies, and other similar locations can usually benefit from a wireless system. It is wireless in the sense that there is no need to wire the room; a loop sits in sign or placard on the counter and transmits the signal to the hearing instruments. Below are a few examples:
A. Privacy Loop/Supa-T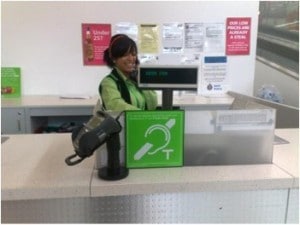 The Privacy Loop/Supa-T is designed to be installed on or near a counter or desk and provides unobtrusive and continual assistance to hearing instrument wearers. The system is ideal for use in high traffic areas, for example: reception counters, information desks, pharmacies, and doctors offices.
The system remains "ON" continuously so hearing instrument wearers do not have to request assistance or activation. Once they are inside the field of the Hearing Loop, they are automatically included as soon as they switch their hearing instrument to the T-coil position.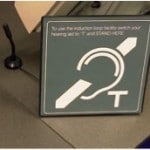 The only visible element of the system is the counter sign, which informs wearers that a Loop system is available so they can participate fully in the conversation or transaction. The system is configured for one-on-one conversation involving a counter/service person and the hearing instrument wearer. The positioning of the sign controls the direction of the field. The counter/service person speaks into a microphone placed near them and the information is transmitted directly into the hearing instruments of the customer or patient
**This system can also be used in reverse, meaning if the counter/service person has a hearing loss, the Loop sign can be turned to face them and the customer can speak into the microphone.

B. Talk-thru Intercom System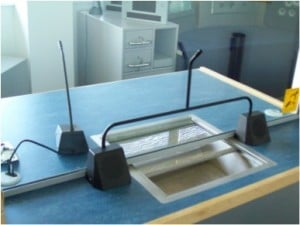 This system allows for clear voice communication through secure windows with thick glass which separates the teller/service person from the customer. The teller/service person usually will speak through a small whole or vent in the window which is very difficult for even a person without hearing loss to hear clearly. Even if a microphone is used, often this is not sufficient. This system allows for effective communication between the teller/service person and the customer without compromising personal, private, or financial information even in noisy environments. This system is integrated with a Loop to provide assistance for hearing instrument wearers.
This system is ideal in the following type of situations: bank teller window, ticket window, information window.
Each system is stand-alone and individually plugs into a power outlet. The mics are hands-free for both the staff and the customer and is designed to remain "ON" continuously so hearing instrument wearers do not have to request assistance or activation. Once they are inside the field of the Hearing Loop, they are automatically included as soon as they switch their hearing instrument to the T-coil position.
Call Today
for your free on-site Loop System demonstration!
727-260-3488
---
The absolute best way to actually witness the benefits of a Loop System is to have an on-site demonstration. We will temporarily lay out the Loop wire so that a person with hearing instruments or even without (using a special receiver) can hear what the Loop System sounds like.
---